The Grinder/Mincer/Pasta Maker is an outstanding compact manual grinder, mincer and pasta maker. This innovative kitchen tool has numerous uses and is made from high quality durable materials that are easy to assemble use and clean.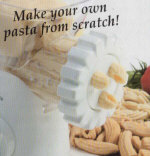 The Grinder/Mincer/Pasta Maker will make food preparation and cooking 'Easier'.
The Grinder/Mincer/Pasta Maker comes complete with stainless steel mincing plates.
Stainless steel blade - sharp and durable for tenderising.
Coarse mincing plate - large holes are ideal for general mincing.
Fine mincing plate - small holes ensure fine mincing.
Works with all kind of Food
Boneless Meat

s

Vegetables

Nuts

Beans

Dried Scallops
The Grinder/Mincer/Pasta Maker can be used for many different types of meats, beans and vegetables. It also includes attachments to make Spaghetti, Rigatoni, Linguine and sausages.
In addition you can make mounds of ground cheese for pizzas and tacos in seconds. Grinding nuts and vegetables is a breeze. Make yourself homemade salsa and tomato sauces too!
Complies with the FDA standards. The Grinder/Mincer/Pasta Maker should prove invaluable asset in your kitchen.
Easy to Use and Clean
Easy to take apart.

Less then 1 minute to clean.

No messy screens.

It's portable, you can use it anywhere.
Once finished using release the lock knob in an anti-clockwise direction and remove the main body. Immediately wash all used parts in warm soapy water and dry thoroughly with a clean dry cloth. (The Bowl for collecting processed food is included).

I don't think I have anything else in my kitchen that so easily and cleanly grinds up every-thing I put into it as this amazing little mincer. I tried sunflower seeds (soaked and unsoaked), pumpkin seeds, pine nuts, walnuts, almonds, figs, dates and half a lemon. The results where loosely mixed together and put back though the mincer again to give a finely textured mix firm enough to roll into balls, and simply delicious. Easy to use and just as easy to clean, very highly recommended. It would of course mince meat just as well!
Do not be misled by the low price of the hand powered mincer/grinder/pasta maker. All parts of the mincer are made of tough Polycarbonate (Lexan) which is practically indestructible. The parts of the mincer that receives the most force (the tip of auger and the inside of the end cap) are made of stainless steel.
What's Included:

Stainless Steel Blade - Surgical steel chopping blade
Coarse Grinding/Mincing Plate - Use for grinding vegetables, beef, pork, chicken, lamb and many other types of meat
Fine Grinding/Mincing Plate - Use for nuts, beans and fish and many vegetables
Sausage Attachment - Make your own homemade sausage!
Combination food pusher with wrench - Used to help push food and lock the suction base
Linguine Attachment - Make your own Linguine pasta!
Spaghetti Attachment - Make your own Spaghetti pasta!
Rigatoni Attachment - Make your own Rigatoni pasta!
Bin - a handy bin is also included for collecting foods and storing the mincer when not in use
Instruction Booklet - detailed operating instructions
Features:
Complies to FDA Standards
Stainless steel blade
Stainless steel grinding plates
Multiple uses in one machine
Small, lightweight and compact
Great to take while Traveling
Uses suction to attach to most surfaces.
Ideal for grinding vegetables, nuts, beans, meat and making sausages and pasta.
Easy assemble and clean