Introducing the Hurom Slow Juicer. A revolutionary new design in Juice extractors that will turn other juicers on the market upright! The Hurom Slow juicer takes the single auger design made popular first by Samson, Solo Star and Omega Juicers, and takes the concept one step further..

The hurom slow juicer will juice fruits, vegetables and even wheatgrass, slowly and efficiently. More efficiently than other single auger style juicers.

Reap all of the benefits of a Single Auger Masticating Juicer in
less space than most juicers on the market!

This juicer is also sold as the Oscar 930 Pro Juicer in other countries.
Why the Hurom Slow Juicer?
Low Speed Technology System (LSTS) - World's first
patented juicer utilizing the LSTS method. It is a complete
departure from the standard masticating method. The LSTS
method allows the Slow Juicer to extract the maximum amount of
nutrients, vitamins, taste and juice from a minimum amount of
fruits, vegetables, leafy greens, even soybeans!
Dual Stage Juicing - juice is extracted through the first crushing
stage and before the pulp is ejected, it is then squeezed during the
second pressing stage; resulting in more juice, and extremely dry
pulp.
Higher yields - Manufacturer testing found the Hurom Slow Juicer
yielded 50% more juice than a centrifuge juicer 50% of the time
Economical - Get the greatest amount of juice from the least
amount of fruits. Peels and skins can be also used in various pastries, jams, soups, etc.
Higher Quality Juice - Enjoy more antioxidants, better flavor and superior freshness of your juice. No frothing or foaming, and
none of the separation that occurs with other juicers.
Self Cleaning - Simply pour water through to self clean the juicer when changing to another fruit, vegetable or leafy green. Save time!
Small Footprint - all of the performance of a masticating single auger juicer, but with less space requirements than most centrifuge-style juicers
Hurom USA's parent company, Dong-Ah of Korea, has specialized in the manufacture of juicers and extractors for more than
35 years. Many familiar US juicers under popular brands are manufactured by Dong-Ah of Korea. Hurom has finally brought this experience and expertise to the US market under its own brand.

What is LSTS?
(Low Speed Technology System)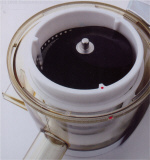 World's first patented juicer with the LSTS method. It is completely different from the original grinding style juicing method. Achieving the maximum nutrients, vitamins, taste and juice from the minimum amount of produce by squeezing rather than grinding.
Healthy
Hurom slow juicer allows you to extract the maximum quality and nutrients from any kind of fruit or vegetable
Economical
Get maximum amount of juice with a minimum amount of fruits. Peels and skins can also be used in cookie, jam, cake, etc.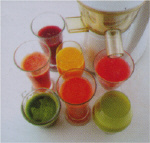 Easy to Clean
Simply rinse with water while changing fruit and take it apart after using and rinse with water.. It couldn't be any easier!
Silence
The Huron juicer minimizs the noise by squeezing slowly rather than grinding at high speed like centrifugal juicers. The 8x harder auger is manufacturered out of GE Ultem material.
Durability
The 10 Year Warranty covers the entire machine for 10 years due to manufacturer defect.
Vegetable Juice
The Hurom juicer excels at making juice out of your favorite leafy greens and wheatgrass.
Specifications:
Model: HU-100
Voltage: 220v/240v
Power Consumption: 150w
Speed: 80 RPM
Motor: Single-Phase induction type
Size: 15.83" Tall x 9.84" Long x 6.81" Wide
Weight: 20 pounds
Warranty: 10 Year Warranty on entire machine.
What's included:
Huron Juicer
Fine dual stage juicing screen
Coarse dual stage screens
Pulp extraction plugs
Self-cleaning screen holder
Two 50 oz. juicing cups
Tamper
Brush
Instruction manual