If you are thinking of buying a high quality juicer then the new MiniGreen deserves serious consideration.

Patented helical twin-gear crusher produces fresh juice.

A patented Helical Twin-Gear Crusher, powered by a 1/4 horse power motor, breaks up the cellular structure of fruit and vegetables, compressing the pulp and releasing vital, nutrient-rich juice.

The MiniGreen juicer has a unique ways of reducing deterioration of the juice due to oxidation. Due to the slow nature of this juicer, you can store your juice for up to 48 hours.
2.6 HorsePower Pressing Power
Full 2 Year Warranty
Quiet Operation
Easy to Clean
Stainless Steel Dual Gears
3 Machines in One - Juices, Purees, Homogenizes
Lightweight- Only 14 pounds
Slow Speed Operation - Only 163 rpm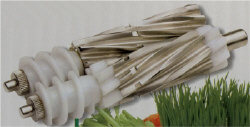 The Mini Green Twin Gears
The MiniGreen Juicer is Versatile
In addition to juicing fruit and vegetables, the MiniGreen can also make nut butters, purées, baby foods, desserts and frozen fruit sorbets.
Perfect for Green Grasses and Sprouts
The new MiniGreen Juicer is ideal for juicing fibrous plants like wheatgrass, barley grass, therapeutic and culinary herbs, alfalfa and other sprouts - it will even juice pine needles!
The MiniGreen Juicer gives Peace of Mind
A thermal protection device and anti-jam reverse action offer safe use and peace of mind. Moreover, if a hard substance accidentally enters the twin gear crushers, an anti-jam override immediately stops the motor before any damage occurs. Blockages can easily be cleared with the reverse action switch.
The MiniGreen Juicer Offers...
Large Feeding Chamber -- able to take large chunks of fruits and vegetables
No intermittent cleaning required
Quiet operation -- generates comparatively little noise
Low Speed, 163rpm -- ensures minimal degradation of nutrients
Complete with all accessories as standard -- including normal-hole, large-hole and homogenising screens, wooden tamper, glass jug and cleaning brush
2 Year Limited Warranty
This Juicer is similiar to the Kempo Juicer, Green Power KPE-1304, Hippocrates Juicer & Samson Ultra Juicer but without the high price tag!

Just look at what this juicer can do:


Vegetable Juice


Fruit Juice


Wheatgrass and Barley Juice


Soy Bean Juice & Tofu


Fruit Sorbet
Features:
EASY TO CLEAN


The MiniGreen Juice Extractor is easy to clean and to carry

TWIN GEARS DO NOT TOUCH EACH OTHER


The twin metal gears do not touch each other which prevents any possibility of metal scraps caused by friction to get into the juice or pulp.

AUTOMATIC PULP EJECTION


Two adjustable pulp inlet caps permit high levels of juice extraction from a wide variety of fruits and vegetables.

MULTI-PURPOSE FUNCTIONS


Vegetables and various grains can be easily ground.

LOW NOISE, HIGH QUALITY JUICING


The low speed rotation (160 rpm) of the unique, powerful, twin gear impeller and pressing system generates virtually no heat that would cause denature to the juice. Fruits and vegetables are thoroughly crushed, rather than cutting and shredding them into small pieces.

AUTOMATIC OVERHEATING THERMOSTAT


The automatic motor thermostat prevents the motor from overheating.

TIP
For faster juicing cut produce into a few long lengths, so they fit comfortably down the chute.