The Samson Super Commercial Wheatgrass Juicer is a commercial grade wheatgrass juicer made of 304 stainless steel.
For durability and longevity, the Super Juicer employs a heavy duty ˝ HP motor
that is air cooled and requires no lubrication
The juicer is quiet for safety the head assembly has a positive interlocking system.

The Super Juicer is fast and efficient so you can serve your clientele fresh juice faster.
Depending on your wheatgrass quality, it will produce approximately 5 ounces of juice per minute.
The juicing head is made from 304 food grade stainless steel and the base and motor housing is made from stainless steel.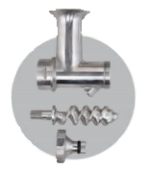 Stainless Steel Juicing Parts
Unlike other wheatgrass juicers, this machine is 100%stainless steel where the grass comes in contact with the juicer.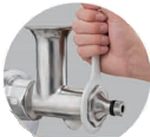 Wrench
The specially designed included wrench allows you to easily assemble and disassemble the juicer.


Outlet Adjusting Knob
The outlet adjusting knob allows you to put backpressure on the pulp coming out of the juicer to ensure you get the highest yield.

NSF Certified This juicer is certified for UL and UL EPH which conforms to NSF standards so it can be used in commercial juice bars and other establishments.