The Green Star and Green Power VHS Video: How to use your Juice Extractor
This video gives you techniques, tips and information to help you get the most from your green star / green power juice extractor.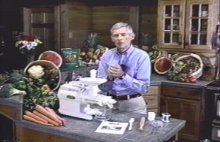 This 75 minute video covers in detail the Green Star and Green Power Juicers. It is excellent for first time juicers to learn the benefits of juicing. It will also provide many tips and techniques to save time, and be more effective when juicing. The author has been using the green juicer for over 3 years.
After viewing the video you will learn:
Why juicing is so beneficial
How the author healed his body of colon cancer
The various parts of the juicer
How to assemble and disassemble the juicer
How to clean your fruits and vegetables
How to make frozen bananna and strawberry dream cream!
How to clean the juice extractor
How to store juice so that it oxidizes the least
and many other hints and tips

Although this video specifically demonstrates the Green Star Juicer, the green power juicer is identical in operation and function. The GreenStar has a stronger and more compact housing as well as a longer warranty.
There are several sections of the video:
Preface: Benefits of Juicing
Introduction to your juice extractor
Cleaning Fruits and Vegetables
Making Freshly extracted juice
Creating Desserts with your juicer
Cleaning your juice extractor
Carrot Juice from Start to Finish
We are the first company on the Internet to offer this instructional DVD FREE with your purchase of a Green Star Juicer!
For a limited time, this 75 minute video is yours FREE when you purchase a Green Star juicer from us.