The L'equip Omni juicer allows you to juice not only wheatgrass, leafy green vegetables, root vegetables and fruits but also lets you make you own fresh-pressed healthy seed oils in your own home.

Besides juicing and making seed oils in your home, the Lequip Omni juicer allows you to make frozen fruit sorbets, nut butters, and even extrude pasta and noodles. The Lequip Omni is truly a multi-function kitchen appliance. Just look at all the all the features:

Vegetable / Wheatgrass Juicer
The L'Equip Omni Single Gear Juicer can extract healthy juices from carrots, celery, parsley, spinach, wheatgrass, apple, orange, kale, cucumber, ginger, sprouts, and many other leafy greens. It can also extract juices from aloe and pine needles -which no other existing juicers on the market have ever done before.

Fruit Juicer
The L'Equip Omni Single Gear Juicer's low-speed screw prevents natural flavors and high nutritional contents from being destroyed.

Seasoning Mincer/Chopper
The L'Equip Omni Single Gear Juicer chops and minces seasonings such as garlic, scallion, onion, red pepper, ginger, radish, and many others without destroying their natural flavor and nutrition.

Meat/Fish Mincer
The L'Equip Omni Single Gear Juicer can mince all kinds of meat and fish together with chopped seasonings such as garlic, pepper, and onion to easily prepare for a delicious meal.

Food Mill
The L'Equip Omni Single Gear Juicer can be used to make bread sticks, cookies and pasta noodles from dough or steamed rice. The L'Equip Omni Single Gear Juicer can also be used to make nut-butters from peanuts or almonds.

Cold-Pressed Oil Extractor
The L'Equip Omni Single Gear Juicer with Included cold press oil extractor allows you press your own oil! Make oils such as flax, sunflower, sesame, hemp and more. No heat is applied to the seeds when using the extractor. Some heat will be generated in the process of making your own oil.

This is the second generation juicer from L'equip and is target for the consumer who wants to live a healthy lifestyle which includes eating more fresh fruits and vegetables and nuts and seeds in their diet. The Lequip Omni juicer allows you to process these foods so they are more easily digested by your body.

The L'equip Omni juicer is a single-stage, single auger style juicer. Also called a cold press juicer, since no heat is involved when juicing or processing foods. This cold-process maximizes amount of vitamins, minerals and enzymes in the food you are processing.

The L'equip Omni juicer is a continuous juicer. This allows you to make large batches of juice without having the inconvienece of stopping and having to empty out the juicer. After your done using the L'equip Omni, there are very few parts to clean, so clean up is a snap.

The L'equip Omni contains a powerful and quiet induction style motor that is guaranteed for a full 10 years, and will provide many years of reliable service.

The L'equip Omni is one of the most compact juicers in its class. The parts are top-shelf dishwasher safe to making cleaning a breeze.

The outlet adjusting knob allows you to fine-tune the settings on the juicer to maximize the yield when juicing produce of different consistencies. From Apples to Zucchini, the Lequip Omni can juice it all.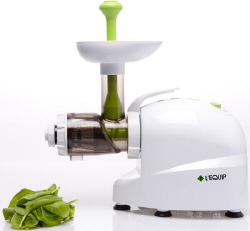 The L'equip Omni is 3 machines in one!
1. A Classic Single-Auger Juicer - This designed is perfect for juicing wheatgrass and other leafy green vegetables. It also juices most other fruits and vegetables without any problems.
2. A Food Mill/Homogenizer - install the "blank plate" into the L'equip Omni and it is transformed from a juicer into an all-purpose food mill that can make 100% frozen fruit sorbets, make baby food, nut butters, mince and chop and even extrude pasta!
3. Cold Press Oil Extractor - With no doubt, this is the most exciting ability of the L'equip Omni. The Oil Press attachment allows you to make your own high-quality fresh-pressed oils out of most oil seeds. Now flax seeds, sesame seeds, chia seeds, hemp seeds and even mustard seeds and more can be turned into a cold-pressed virgin oil in your own home.


With the L'equip Omni you can now obtain a higher concentration of Essential Fatty Acids than eating the foods alone by making your own fresh oil. The first time we made Cold-Pressed Flax oil in the Lequip Omni, it was amazing. It tasted fresher and had a "nutty" flavor. Oh, and the press cake, the dogs loved it mixed in to their dog food. It also makes a low fat crunchy snack. Create your own oils rich in Omega 3, 6 and 9 with your L'equip Omni juicer.
Cold-pressed seed oils like sunflower, chia, flax, sesame, hemp seed oil and more are a rich source of unadulterated, cholesterol-busting monounsaturated fats and essential fatty acids. Now you can get the benefit of these supremely healthy seed oils in their pristine, freshly-pressed optimum condition with the oil extractor attachment for the L'Equip Omni Juicer.
Features:
Continuous juicing
High yield
Quickest, easiest cleaning (just a few minutes)
Simplest assembly and disassembly (only 15 seconds)
Mill-type single gear instead of twin gears (cutting length: 5 1/5")
Extracts healthy, pure juice without hazardous chemicals
Extracts juice from aloe and pine leaves which no other juicer on the market has ever done
Operates at low speed - 80 RPM (no foaming and more nutrition)
160 Watts
Squeezing horsepower: 1.5 hp
Built-in control to prevent over-heating
Made of FDA approved polycarbonate and melamine
10 Year Warranty
Includes oil extractor for highly nutritious home made cold-pressed seed oils, brimming with Essential Fatty Acids
Includes 6 different nozzles for juicing, homogenizing, pasta, noodles and more
Extremely quiet, powerful low-speed induction motor for many years of faithful service