Your path to wellness starts here. True Taste Extraction™ for optimal flavor and nutrition. The auger's slow pressing speed of 43 revolutions per minute, keeps nutrients intact by minimizing oxidation and heat generation.
The Nama Cold Press Juicer is a juice extractor that uses patented Pure Press Technology™ and True Taste Extraction™. This type of juicer is also known as a slow juicer. The auger's slow pressing speed of only 43 revolutions per minute (RPM) gently extracts the liquid and vital micronutrients from fruits and vegetables. This compares to other types of juicers that can operate at speeds up to 16,000 RPM. The Pure Press Technology delivers a perfect balance of torque, speed and filtering, which allows you to juice whole produce that can fit into the chute.

The Nama Cold Press Juicer uses True Taste Extraction, where the auger will slowly press fruits and vegetables against the 6,612 micro-perforations in the juice strainer. This action opens the food's cell membranes and releases its deep-seated nutrients and enzymes. It also maximizes the extraction of vitamins, minerals and phytonutrients, resulting in rich colors and pure flavors of juice. The slow RPM ensures that it does not disrupt the cellular structure of fruits and vegetables, minimizing oxidation and heat, preserving the precious enzymes and nutrients closest to its natural form.
Why the Nama Cold Press Juicer?
1. Better Flavor and Nutrient Dense
Preserves natural flavors and nutrients from oxidation with True Taste Extraction.™

2. Up to 60% More Juice (compared to high speed juicers, when juicing some produce items) Get maximum micronutrient extraction from fruits and vegetables.

3. Less Time Juice ingredients with less prep using Pure Press Technology.™

4. Create More than Juice- You can make Nut-milks, smoothies, sorbet and wheatgrass.

5. Long Term Savings Yields more juice saving money over time.
The Highlights of the Nama Juicer:
Multi-Function
Multiple strainers to create green juices, fruit juices, combination vegetable juices, smoothies, sauces, nut-milks, seed milk, oat milk, sorbets and nut butter

Pure Press Technology Nama's solution to juice whole produce that can fit into the chute, like carrots, celery and kale without cutting into small pieces. It's the perfect balance of balance of torque, speed and filtering.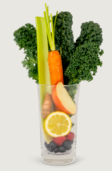 Nutrient Dense
Maximizes extraction of the micronutrients that our bodies need to function at their best. This juicer can extract nutrients from the skin and seeds of many produce items that high speed juicers can not.


Maximum Juice
Get every last drop of nature's liquid sunshine out of your fruits and vegetables with the adjustable pulp control level that will keep maximum backpressure on the pulp before it is ejected.


Preservation
The auger's slow pressing speed of 43 revolutions per minute, keeps nutrients intact by minimizing oxidation and heat generation during the juicing process.



Smooth Texture
The juice strainer with 6,612 micro-perforations allows for the maximum extraction resulting in a smooth juice that's easier for the body to absorb.



Pure Flavor
The spinning brush mixes the pure flavors of fruit and vegetable juices within the chamber and also wipes the strainer for easier cleaning.


Less Time
Spend less time chopping ingredients thanks to Pure Press Technology of the Nama Cold Press Juicer. This allows you to juice many vegetables without precutting.
More Juice
The Nama cold press juicing process yields more juice from the same amout of ingredients than with high speed juicers in many instances.
Easy to Clean
Done Preparing your juice? Clean up is quick and easy.


Includes Smoothie and Sorbet Strainer
The Nama Vitality 5800 Cold Press Juicer includes both a Smoothie (Coarse Hole Strainer) and Sorbet Strainers that allows you to make more than just juice.
Juice Fruits and Vegetables
Create Frozen Fruit Sorbets
Create Nut Butters
Create Low Oxidation Smoothies
Create Nut Milks


Why a Nama Cold Press Juicer?
A slow masticating juicer or a cold press juicer has an auger that slowly rotates while pressing fruits and vegetables against a strainer to release juice and separate pulp. Think of it like a nice massage for your produce. This slow juicing process, also known as cold press, helps preserve the micronutrients being extracted from the produce with less pulp and more flavor. While a cold press juicer is not considered a cheap juicer, it could be one of the best juicers to buy as the extra money spent upfront gets you long term value with more micronutrients and a quiet machine.
Green Juices
Create your own green juices using celery, cucumbers, kale, collards, even wheatgrass can be juiced in the Nama Cold Press Juicer. This juicer is perfect for medical medium straight celery juice.


Juice Fruits
Of all slow juicer types, the vertical slow juicer is the best style juicer extracting the juice from firm fruits from apples, oranges, pears, watermelon, cantelope, tomatoes, peppers and more.


Nut Milks
Create your own nut milk, seed milk or even oat milk using the Nama Vitality Juicer. This will save you money and provide you and your family healthier alternatives to store bought nut and seed milks.


Smoothies and Sauces
Larger holes in the smoothie strainer allows more pulp and fiber into your juice and works perfectly for smoothies, sauces, and more.


Frozen Deserts
Treat yourself to more than juice with healthy frozen desserts using the sorbet strainer. Instantly transform frozen bananas into the most delicious soft serve frozen fruit sorbet ever.
The Slow Juicer Difference
Just 5 minutes after juicing, juice made in a popular high speed juice will separate. Juice made by the Nama cold Press Juicer retains more natural color, nutrients and cellular structure by minimizing oxidation during juicing.
When purchased from Discount Juicers, you get the Nama Recipe Book to inspire your creativity
The Nama Recipe book contains dozens of juice recipes as well as smoothies and frozen desert recipes that will get you juicing fast. It also contains many helpful hints on selecting produce and creating your own recipes. Over 70+ full color pages of bright pictures and recipes to help you get on the road to better health.
Specifications:
Silver Color
UL Listed
30 Minute Continuous Usage Time
Low Speed 43 RPMs
150 Watt Motor 120 Volts 60 Hz
15.9" H x 9.1 L" x 8" W
4.5 foot grounded cord
14.3 pound juicer weight
10 Year Warranty on Motor
2 Year Warranty on Parts
Parts included:
Nama Motor Base
Upgraded Juicing Chamber
Juicing Auger
Juicing Strainer
Smoothie Strainer
Sorbet Strainer
Spinning Brush
Hopper with Feed Chute
Pusher
Juice Container Cover
Juice Catch Container
Pulp Catch Container
Cleaning brush
Instruction Manual
Quick Start Guide
Recipe Book (Full Color) 72 Pages