Quickly creates continuous spiral strands, ribbons or thin slices from vegetables.
The Spiral Slicer originally from Japan is used exclusively to make edible decorative garnish in many oriental dishes.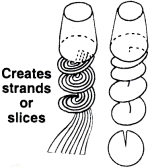 This tool is great for raw foodists and vegetarians alike.. Our favorite recipe to make with this unique kitchen tool is raw spaghetti pasta. Just process a zucchini (fat ones work best) through the machine, and watch long strands of zucchini pasta come out! Then blend up a simple pasta sauce in the blender (we use, fresh tomatoes, soaked sun dried tomatoes, garlic, red peppers) and pour it over the thin, long strands of zucchini and enjoy.
Turn almost any firm vegetable into fine spaghetti-like strands or incredibly thin, long ribbons
Make professional-looking garnishes, onion rings, potato nests, elegant salads, vegetable pizza toppings, and so much more.
Vegetables can also be turned into thin, uniform slices, julienne strips or tiny cubes by adding cuts prior to slicing, as shown below
| | | |
| --- | --- | --- |
| Radish Slices | Zucchini Julienne Strips | Carrot Cubes |


Radish Slices and Carrot Strands
Recommended Vegetables:
Onion
Zucchini
Carrot
Cucumber
Turnip
Potato
Sweet Potato
Daikon Radish
Butternut Squash
Look at the many uses:
Garnishes
Salads
Onion Rings
Coleslaw
Pickles
Soups
Potato Nests
Pizza Toppings
Spaghetti
and More!
Specifications:
10" high x 7" wide
Strand Cuts are approx. 1.5mm wide
Stainless Steel Blades
High Impact Plastic Construction
Includes cover, collection bowl, instructions
Fixed blade
Dishwasher safe (top shelf)
approx. 3 cup capacity (then empty to continue slicing!)
These spiral slicers are now made in China. The "Saladacco" is no longer being commercially imported into the US from Japan. This is the model that is commonly sold as the "Saladacco", at our store and other outlets.
For Best Results when using the Spiral Slicer:
Apply constant downward pressure to the handle, while rotating. This will ensure the item being spiralized will come in contact with the blade.
Produce selection is paramount for the machine to work correctly. It is important to purchase FIRM (not soft) zucchini, and not "jumbo" ones that tend to have alot of seeds.
If purchasing Cucumbers, Firm English Cucumbers work best.
You want to purchase produce that is shaped like a log, straight (not curved)