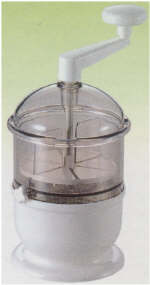 Look at the many uses:
Garnishes
Salads
Onion Rings
Coleslaw
Pickles
Soups
Potato Nests
Pizza Toppings
Spaghetti
and More!
Specifications:
11.5" high x 5.25" wide
Two Size Strand Cuts:
approx 1/8" wide and 1/16" wide
One Size Slice Cut
Stainless Steel Blades
High Impact Plastic Construction
Includes cover, collection bowl, Strainer, Instructions in Japanese
NO ENGLISH INSTRUCTIONS.
Fixed slicing blade
Dishwasher safe (top shelf)
approx. 3 cup capacity (then empty to continue slicing!)
Made in JAPAN.
This unit is made in Japan and Imported from Japan, and DOES NOT HAVE ENGLISH INSTRUCTIONS.

WE RECCOMEND THAT YOU ONLY ORDER THIS ITEM IF YOU CAN READ JAPANESE or CURRENTLY OWN A SPIRAL SLICER AND KNOW HOW TO USE IT - THIS ITEM IS VERY SIMILIAR.