PLEASE NOTE:
The Omega 8001 has been discontinued. The replacement model is the Omega 8002.
We do have some remaining inventory of the 8001, and will continue to sell it until we run out.
The Omega Model 8001 Nutrition Center is our new single gear, masticating juice extractor that will serve all of your juicing needs and much more. This unit is a "multiple use" appliance that actually does all of its uses very well. Most appliances that are built for more than one use tend to compromise one task or another. But the Omega Model 8001 Nutrition Center excels at all of its functions.
Our single gear machine turns at a low 80 RPMs to ensure that nothing is lost through heated elements in your juice. This low speed also helps the Omega 8001 foam less than a double gear style juicer.
The 8001 has multiple uses:
Vegetable Juicer
Fruit Juicer
Wheatgrass Juicer
Nut Butters
Baby Food
Frozen Desserts
Mincing/Chopping
Pasta Extruder
FIVE MACHINES IN ONE
Vegetable Juice Extractor
Omega 8001 can extract healthy juice from carrots, celery, beets, spinach, wheatgrass, mugwort, yam arrowroots, herbs, parsley, asparagus, cabbage, sprouts, cucumber, and many other leafy greens. It can also extract juices out of aloe and pine leaves which no other existing juicers on the market have ever done before.

Fruit Juicer
The low-speed screw prevents natural flavors and high nutritional contents from being destroyed.
Seasoning Mincer/Chopper
Omega 8001 chops and minces seasonings such as garlic, scallion, onion, red pepper, ginger, radish and many others without destroying their natural flavor and nutrition.
Meat/Fish Mincer
Omega 8001 can mince all kinds of meat and fish together with chopped seasonings such as garlic, pepper and onion to easily prepare for a delicious meal.

Food Meal
Omega 8001 can be used to make bread sticks, cookies, and pasta from steamed rice. And noodles too!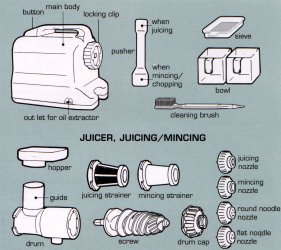 WHY CHOOSE THE OMEGA 8001?
Omega 8001 is made of F.D.A. approved polycarbonate and melamine which are semi- permanent and extremely hygienic. Omega 8001 is equipped with low-speed milling type screw which preserves as much flavor and nutritional value as possible. (other high-speed juicers can destroy natural flavor and nutritional value of vegetables and fruits.
The versatile Omega 8001 has above five completely different functions.
Vegetable Juice Extractor
Fruit Juicer
Seasoning Mincer/Chopper
Meat/Fish Mincer
Food Mill
It is easy to disassemble, clean and reassemble for other functions. (15 seconds to one minute)
Omega 8001 has a built-in control to prevent over-heating and restart when it cooled down. You don't have to worry about over-heating!
Specifications:
Single Gear Masticating Extraction
Low Rotation Speed of 80 RPMs. Powerful motor chews the plant fibers and penetrates membrane to extract vitamins, enzymes, and mineral content.
Continuous Juicing with Automatic Pulp Ejection
High Juice Yield ­ very dry pulp
Single Gear Produces Less Foam than Double Gears
No Heat Build Up
Heavy Duty Construction using the highest quality materials.
Engineered for quiet operation and long life
Built in "reverse" prevents clogging.
User Friendly ­ easy to assemble, operate and clean.
No separate attachments needed.
Full 5 year guarantee
Very Quiet 1/3 HP motor
Gear runs at 2 HP with Gear Reduction
12.5" H x 7.5" W x 16" L
UL and cUL approved
Polycarbonate and Melamine Construction
Adjustable at Nozzle
Juices Fruits, Vegetables and Wheatgrass and Leafy Greens
Homogenizes
Gear Length: 6 14/25"