The Omega Compact Nutrition Center is Omega's 7th generation horizontal single gear masticating juice extractor. Using a low speed of 80 RPMs results in minimal heat build up and oxidation promoting healthy enzymes and longer lasting juices. Designed and engineered for health-conscious individuals who travel and want a greater variety in their daily juicing routine, the CNC80 has the ability to also juice everything from wheat grass and leafy greens to fruits and vegetables. Not just for juicing, the Nutrition Center turns nuts into nut butters, extrudes pasta, grind coffee and spices, mince herbs and garlic, make baby food and frozen desserts, and extrude soy milk. The 15 Year Warranty – the longest in the Industry – guarantees you've purchased "the last juicer you will ever need to own."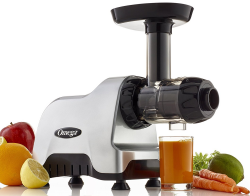 The CNC80 is compact version of the best selling 8006 model. Both models use the single gear extraction method, and feature a patented auger that features two stage juice extraction which helps to increase yield over other single stage auger juicers. The main difference is the CNC80 parts have been made smaller for easier travel and for people that are counter space challenged.
The CNC80 Nutrition Center has an upgraded juicing screen. The CNC80 screen has been designed with dual stainless steel inserts that has less surface area than the previous generation machine for space savings. For added strength, the screen is now made with thicker plastic. These improvements ensure the CNC80 Nutrition Center is more compact and durable than prior models.
The main differences between the CNC80 and 8006:
Larger Funnel - makes feeding produce easier.
Compact Screen with less screen area to clean.
Smaller Footprint - Takes less counter space.
BPA-Free Housing - Now uses Eastman Tritan Copolymer instead of Polycarbonate
This unit is a "multiple use" appliance that actually does all of its uses very well. Most appliances that are built for more than one use tend to compromise one task or another. But the Omega Model CNC80 Nutrition Center excels at all of its functions.
The CNC80 auger turns at a low 80 RPMs to ensure that nothing is lost through heated elements in your juice. This low speed also helps the Omega CNC80 foam less than a double gear style juicer.
This heavy-duty juicer features a patented, stone mill-like screw, made of GE's ULTEM material, which is 8 times stronger than augers on other single auger juicers.
The Omega CNC80 Nutrition Center's low speed of 80 RPM's ensures full taste and the highest nutritional value.
The Omega CNC80 Nutrition Center is easy to assemble and disassemble for quick cleaning.
The Omega Compact Nutrition Center assures you many years of trouble-free, dependable service. Fifteen Year warranty on all parts and labor.
The Compact has multiple uses:
Vegetable Juicer
Fruit Juicer
Wheat Grass Juicer
Mincing/Chopping
Grinding
Soy Milk Extruder
Frozen Dessert Maker
Nut Butters
Baby Foods
Extrude Pasta
Just look at some of the things the Omega Compact Nutrition Center can do:
Vegetable and Fruit Juice Extractor
Omega CNC80 Nutrition Center efficiently juices fruits and vegetables. It will even juice citrus fruits, usually one of the hardest fruits to juice. In addition, it will juice vegetables like carrots, beets, celery, peppers, and radishes without destroying the natural flavor and nutritional benefits. Fresh taste and full nutrition are guaranteed with this unique extraction process.
Wheatgrass and Leafy Greens
Wheatgrass, kale, collards, chard, cabbage, spinach, and pine tree needles are just some of the natural products that can be juiced with the Omega CNC80 Nutrition Center. Enjoy the best that nature offers in raw foods of all kinds and juice them for full nutritional benefits.

Whats the difference between
the Omega 8006 and Omega CNC80?
| | |
| --- | --- |
| Standard Funnel | Jumbo Funnel |
| Standard Screen | Compact Screen |
| Polycarbonate Housing | BPA-Free Housing |
| 15 Year Warranty | 15 Year Warranty |
| Full Size Juicer for | Small Size Juicer |
Food Processor
The Omega CNC80 Nutrition Center chops and minces, proving natural flavor and nutrition from garlic, scallions, red pepper, ginger and most other foods, including herbs and seasonings. Soft foods for special diets (i.e. babies and geriatric patients) are quick and easy to prepare with the mincing set-up.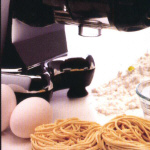 Pasta Extruder
The Omega CNC80 will also allow you to make pasta. You simply make the pasta dough, and let the machine extrude the pasta-like shapes.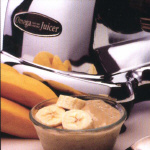 Homogenizer
Make fresh frozen desserts, natural baby food and nut butters using your fresh ingredients. Tip: Try peeling some ripe bananas, freezing in a zip lock bag, and then put it through the CNC80!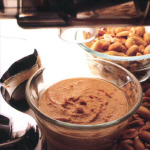 Nut Butters
Make your own nut butters with roasted peanuts. Some nuts with a low oil content will come out as a flour; and you will need to add oil to get it to stick together.
Soy Milk or Nut Milk Extruder
Can extrude the milk from the nut mixture when making soy or nut milks. Gets the pulp bone-dry. Also works great for making coconut milks/creams.
Grinder
Grind coffee beans for the freshest coffee you have ever tasted! Also works for grinding flour and even boneless meats into ground meats.
The "Heart" of the New CNC80 Juicer is its new black Heavy Duty auger made out of GE Ultem, which is 8x stronger than other single augers. The CNC80 also boasts a 15 year warranty. The longest factory warranty available on any juicer!
Specifications: